IntranetPro
A customizable modern intranet with enhanced features
to increase employee engagement.
Overview
IntranetPro is an enterprise-level modern intranet that is built on and for Microsoft SharePoint. Personalization, communication, collaboration, smart search, easy content management, and employee engagement are the key features this platform provides.
The initial designs for this platform were created by Justin Kwak in 2016. Justin was contracted by Codesigned to interview clients whom we had built past intranets for and created an initial set of mockups for our new platform. Since 2016, my co-worker Zac and I have built on these designs - which consisted of 14 desktop screens - to create a set of 250+ screens across 3 breakpoints, as well as supporting client customizations to the platform.
Role
2016-2020: I worked with the team to create new features for IntranetPro, worked on new client customizations, and helped in supporting the marketing/sales team. I also assisted with QA as well as writing acceptance criteria for new and existing features.

2020: I became the sole designer for IntranetPro and we decided to transition from Sketch to Figma, complete an audit of our current design system, and create a fully revamped design system and component library. Since we had a short timeline, I was able to work closely with another designer Maciej, who we contracted to help out.
During this time, I led weekly design meetings to check in on progress and share feedback during the weeks' current active sprint. I was a part of sprint planning, road mapping sessions, worked with the dev team during the design process of new components, features, and while they were creating the component library in Storybook. I also worked with the sales/marketing team as needed providing assets for social posts, blogs, case studies, and webinars.
Tools: Sketch, Figma, InVision, Jira, Storybook
Goal
To create a seamless, user-friendly experience for our clients. Focusing on employee engagement, and simple front-end content management.

After years of creating custom intranets for clients, we noticed a lot of similarities around custom features we were designing and building. However, we were spending a lot of time and resources implementing the same features from client to client because we didn't have a set component library or design system.
Around this time we were starting to shift to a product company and this is where we saw the real need of nailing down a design system. By creating reusable components we not only cut implementation time, cost, and resources, but we also created a cohesive product that focused on content management, communication, and engagement.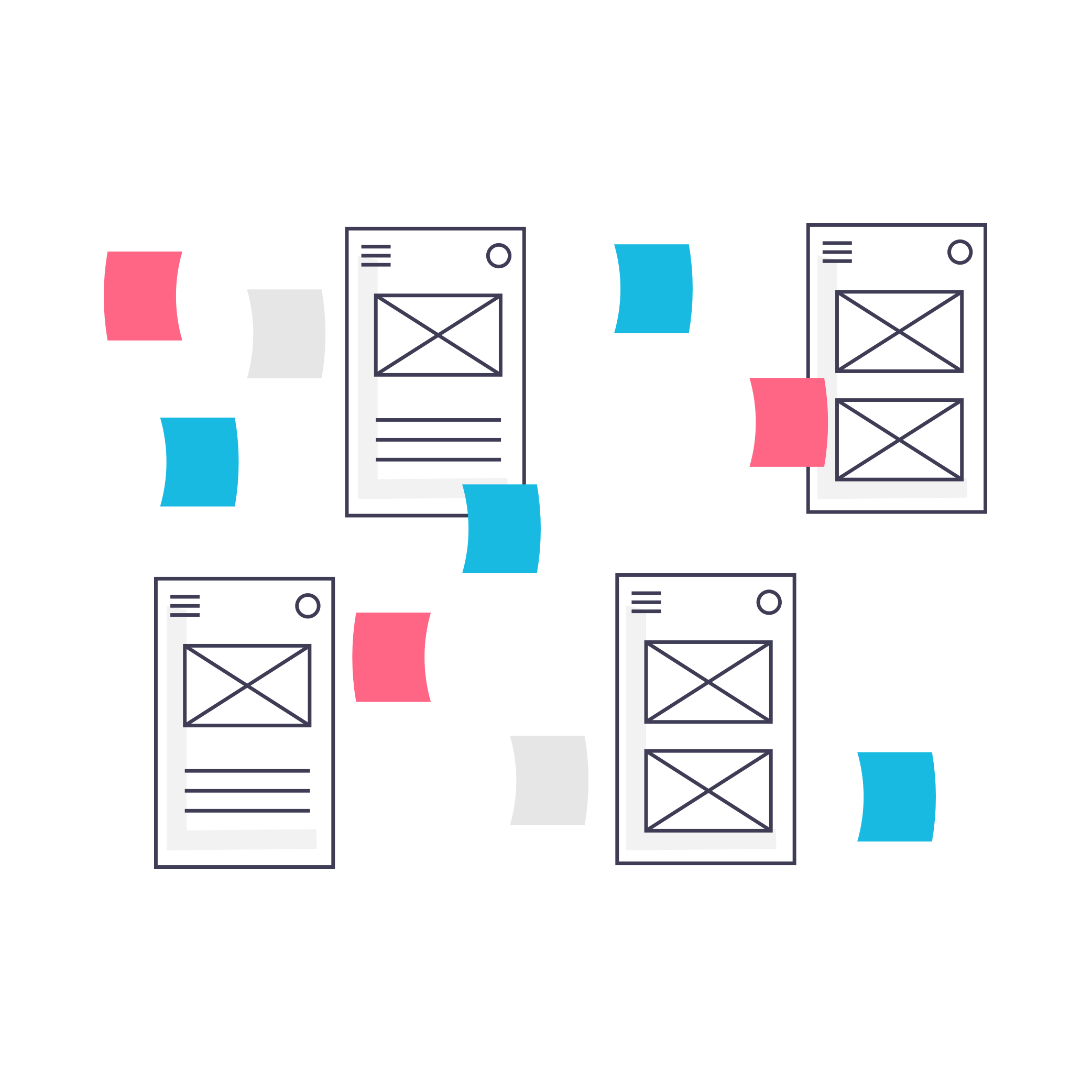 Design Process
Understanding our clients and what their users need to accomplish on a daily basis is critical. Each client came with a different set of use cases which allowed us to think through and create a multitude of features for the product. Some customizations were tailored to the client and others were found to be useful as a product feature.
Research is important to make sure we are shipping a great experience. Observing our users in their day-to-day life gives great context to their pain points with their current platform, and conducting user interviews helped with understanding the problem, experience, and expectations.
Defining the problem allowed us to get together and work through solutions as a team. Whiteboard sessions were crucial when talking through different scenarios and ideas. These sessions helped us narrow down the direction to create the best experience for the use case.
Prototyping is helpful not only for the client to visually see and experience but for us as well, to see them walk through our solution first-hand. This is when we are able to give the green light for dev, or we could find that the experience wasn't what we had planned and we may need to make a few minor adjustments in the workflow.
Testing is a team effort. It's important for everyone to get their hands on a new feature and test out the solution against the acceptance criteria, overall user experience, and across all browsers and devices.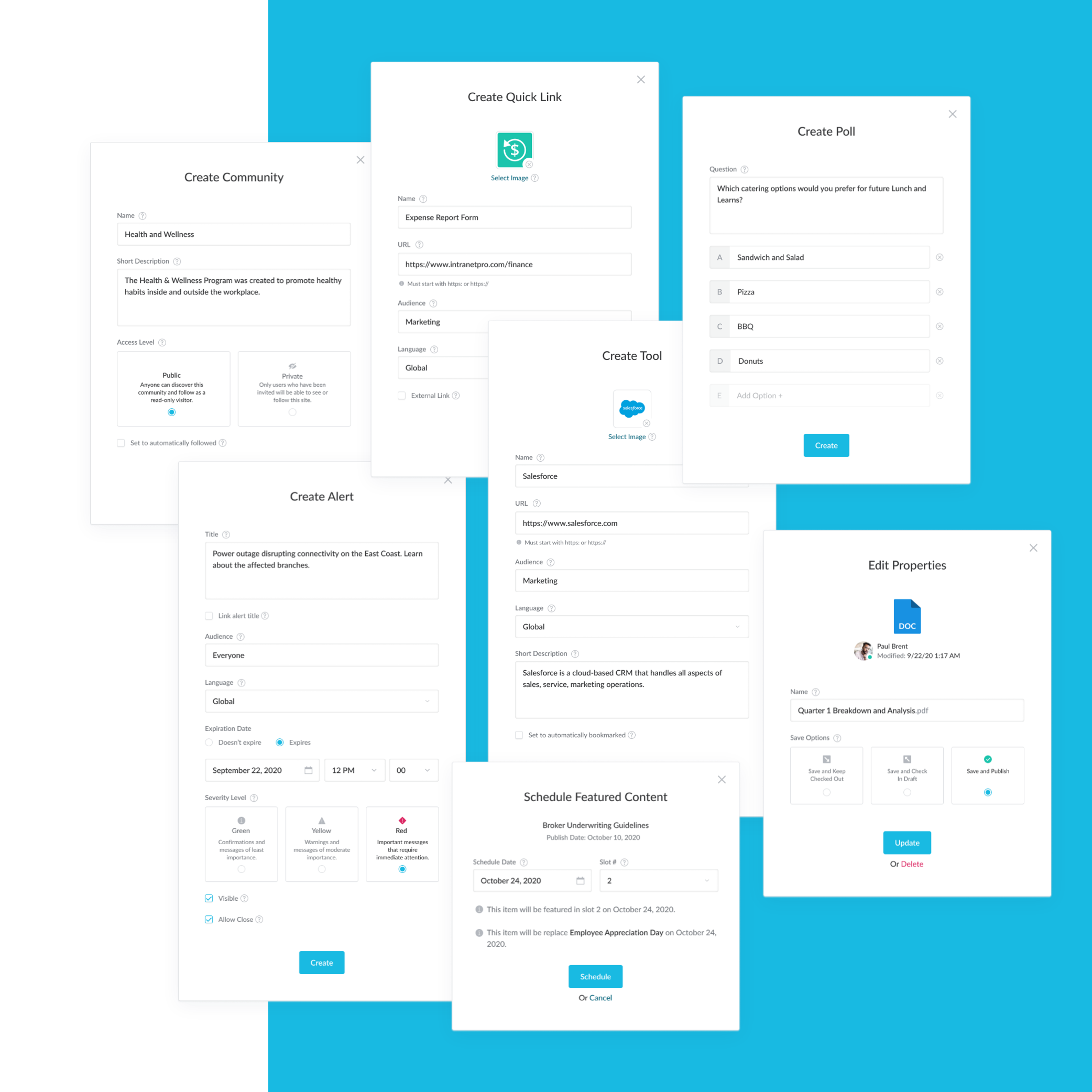 Content Creation
Permission levels determine what actions each user can take. These levels are divided into three groups, visitors, members, and owners. The content creators are members and owners.
While working with intranets and understanding our clients, we understood how important content creation is and how it's shared throughout the organization. SharePoint is notorious for bad UX when it comes to creating and editing content. The platform isn't intuitive, most of the content needs to be edited on the back-end, and this can be very frustrating for first-time users.
Designing for this platform we put the users first to make their lives easier and their workday more efficient. Whether it's adding news, events, new tools, quick links, department sites, or setting permissions, adding/removing employees, and creating alerts. We worked to give the user a consistent and simple front-end experience within the platform.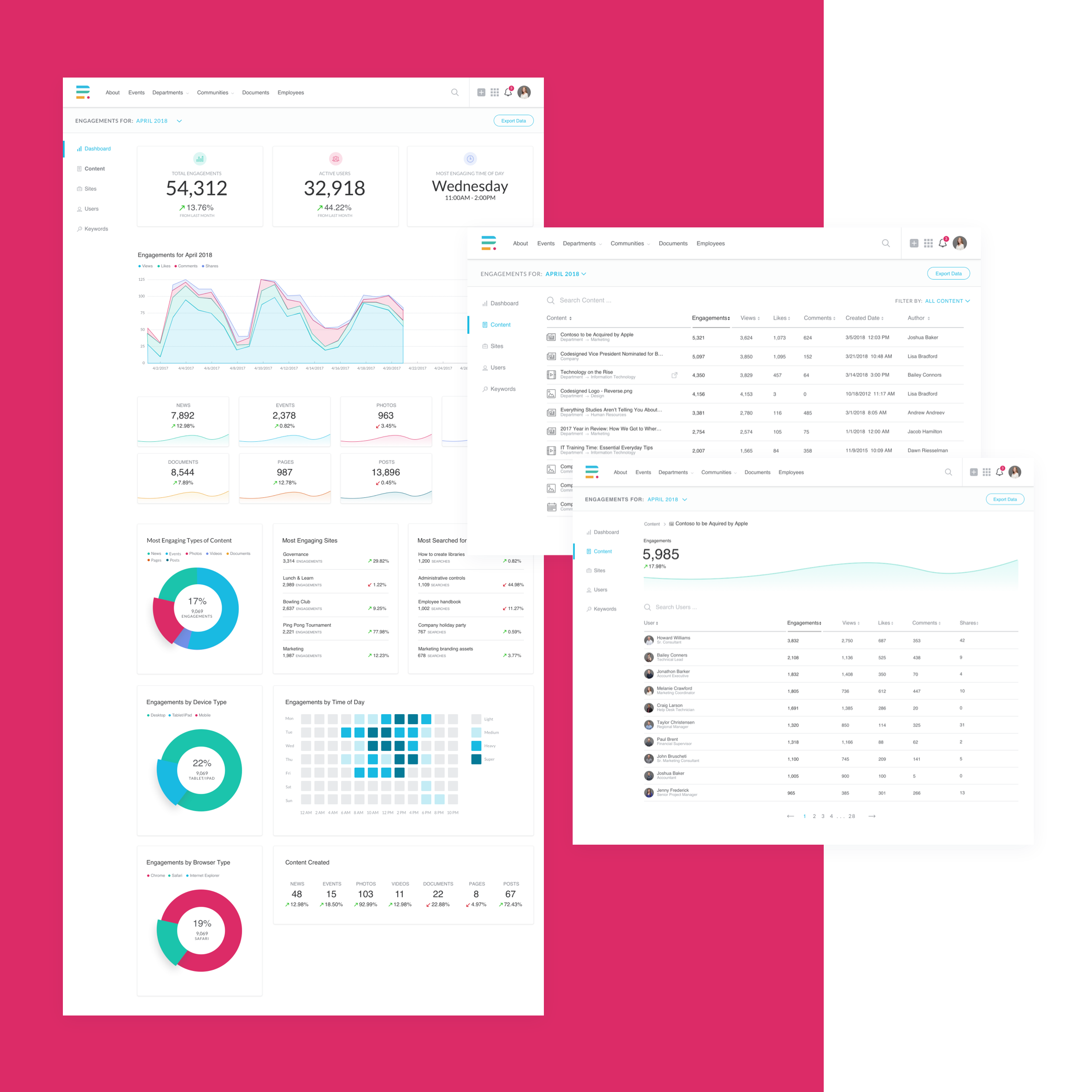 Analytics
Many of our clients want to see employee engagement across the intranet. This is important because they need to understand what type of content is most engaging, how often content is being created, and what time of day their employees are most engaged. We created the analytics portal to allow them just that. Intranet analytics tools are deeply embedded across the experience so owners can dive deep into what is driving traffic, who is engaging, and plan what to roll out next.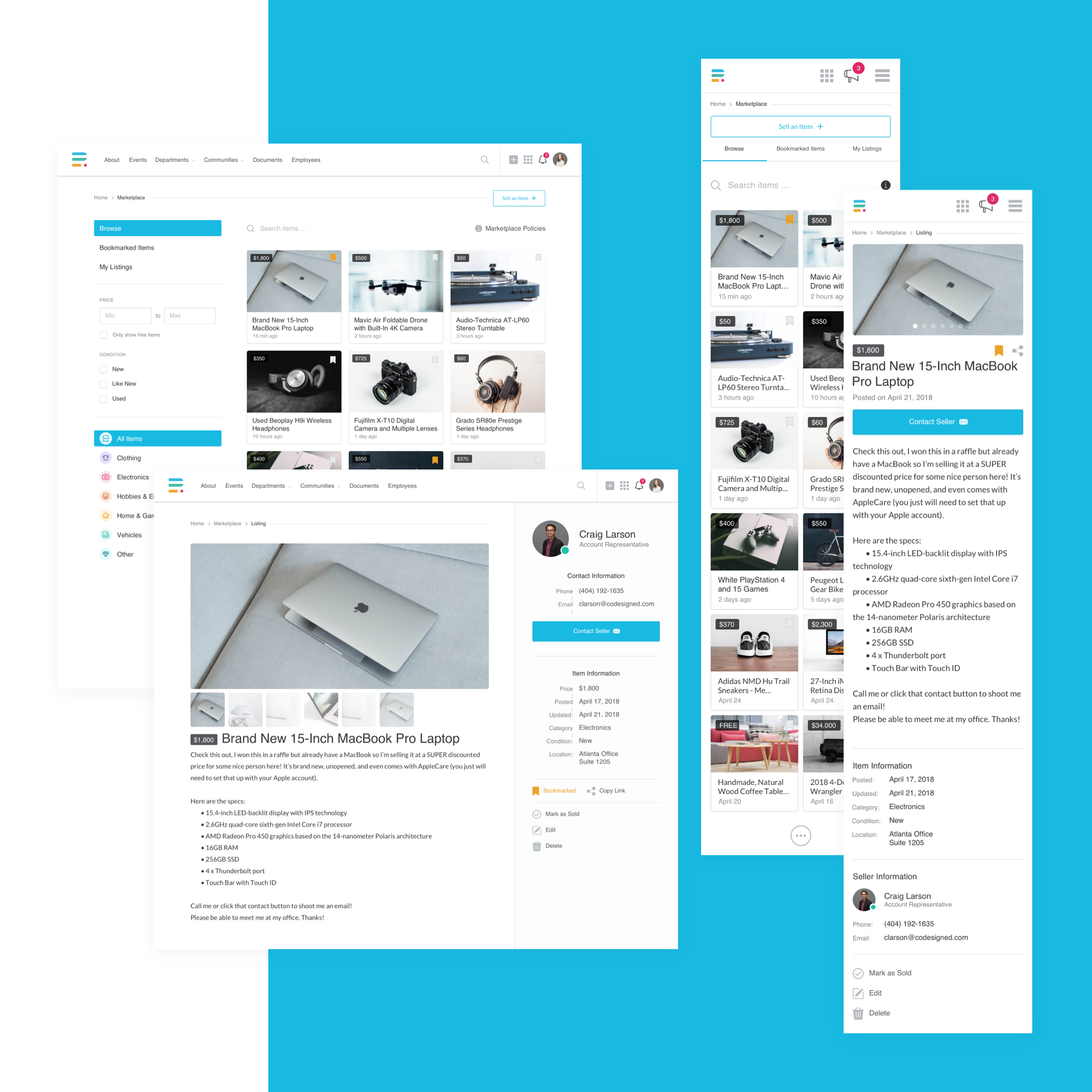 Marketplace
The intranet is the centralized place where all employees go to find what they need; whether that be someone's email, the new employee handbook, or the photos from last year's holiday party. Creating a marketplace gives everyone a separate space to buy and/or sell items to anyone in the workplace and adds value to the platform.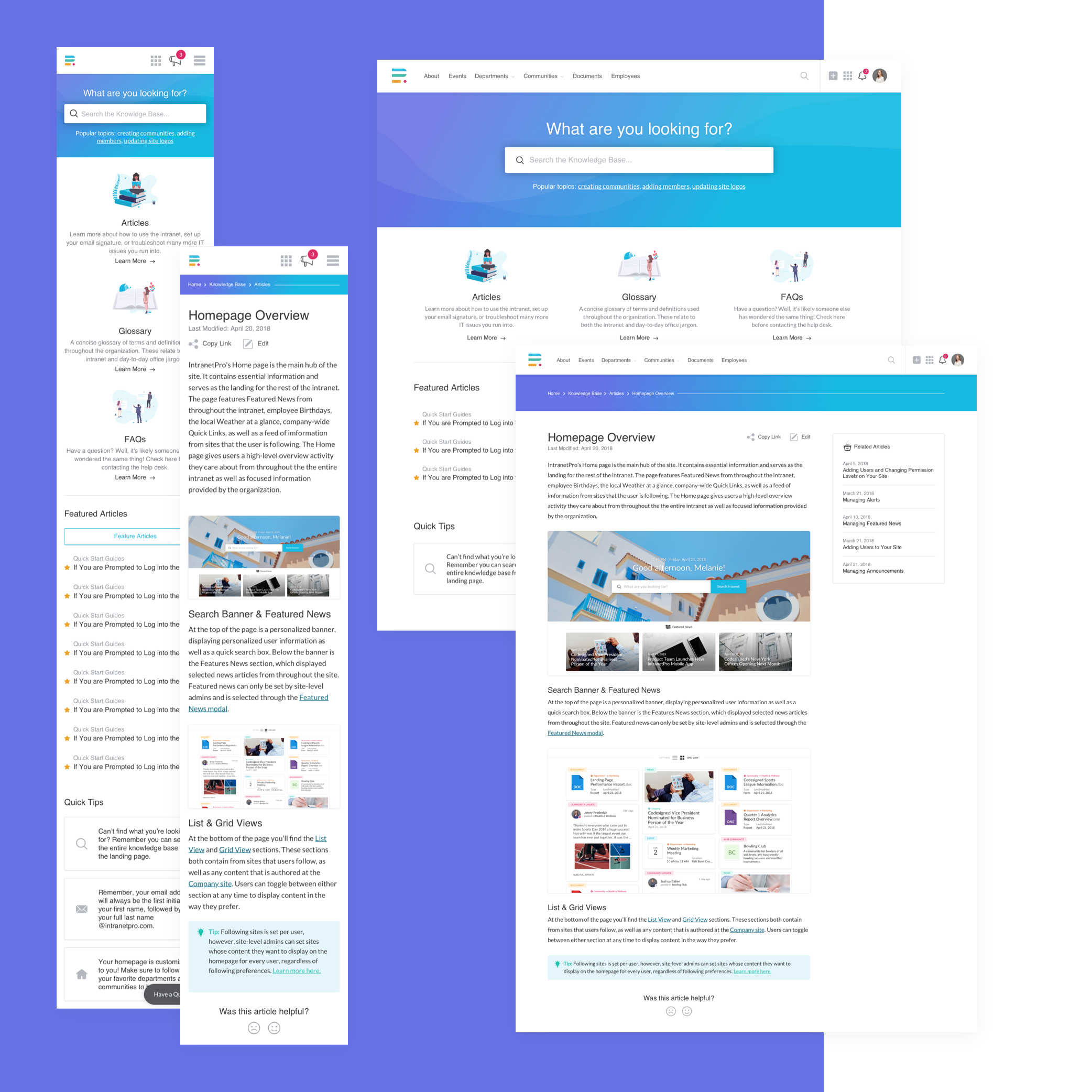 Knowledge Base
In the early stages of becoming a product company, we created various guides regarding the platform. Quick start guides, permissions, and content creation. These guides would need to be updated based on the client and that became a larger project than we had planned. To solve this, we decided to create a knowledge base that gave all of the how-to information, permissions, and FAQs to the base platform. For client-specific enhancements, we would ensure that proper training was done. Although we are now using Jira helpdesk to assist with all of this, the knowledge base was a useful feature in a time of transition.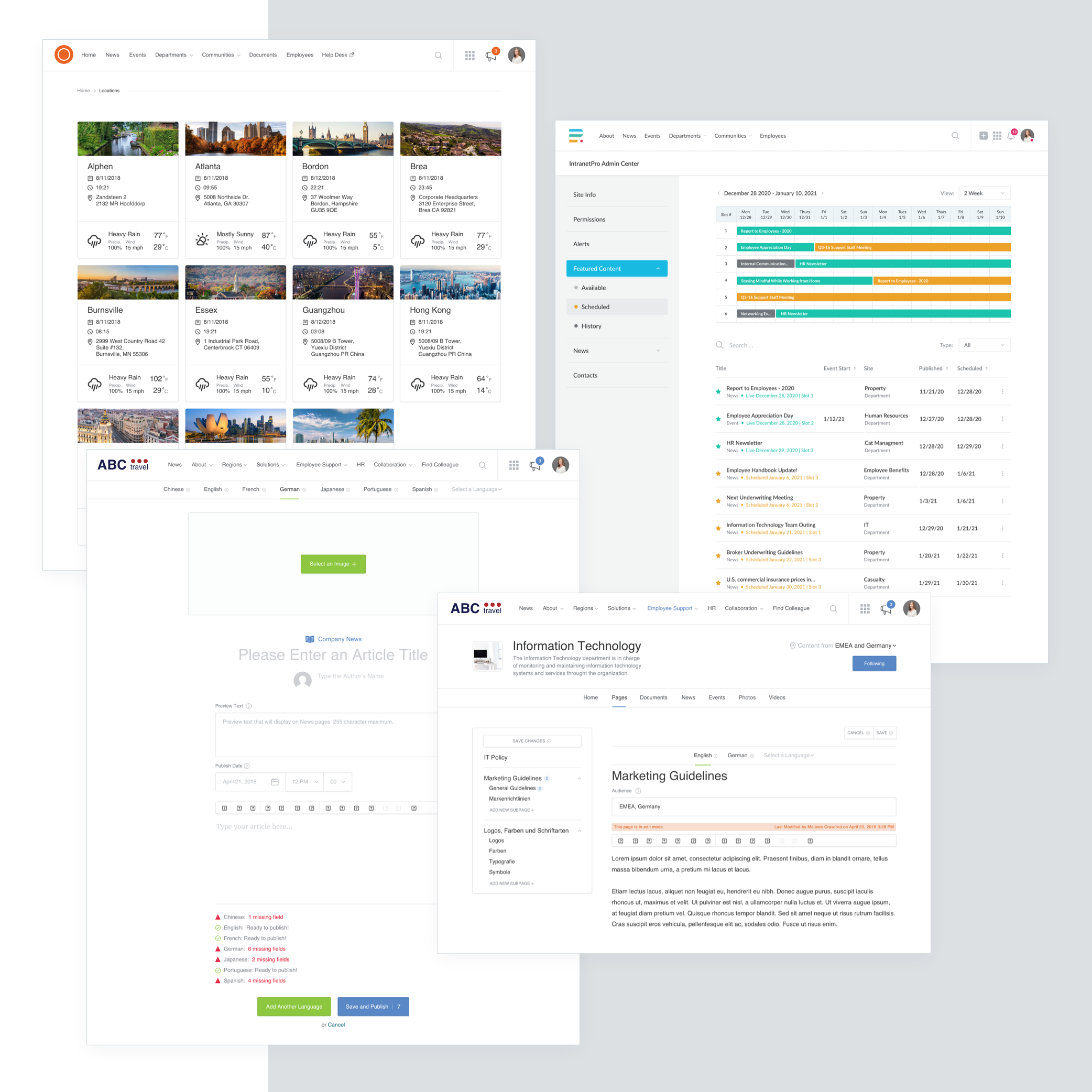 Client Customizations
Designing intranets for clients led us to create over 150+ custom features. Some of the customizations were client-specific, and some we found to be useful features for the product. Here I show a small sample of customizations that we created for clients.
For example, the locations page for aerospace distribution was a client-specific need based on a lot of international business travel.
The featured content scheduler allowed the user to schedule news, events, and featured content ahead of time which was a big win for the client. We found this valuable to the platform and added this as a new product feature to the IntranetPro admin center.
We also created a solution to add content in 7+ different languages and tag each with a specific country and region which allows each employee to have their own personal experience tailored to them when logging into the intranet. This was a complex problem to solve. We conducted a lot of whiteboarding sessions working through user flows and use cases regarding language, location, and permission level to create a seamless experience for the end-users.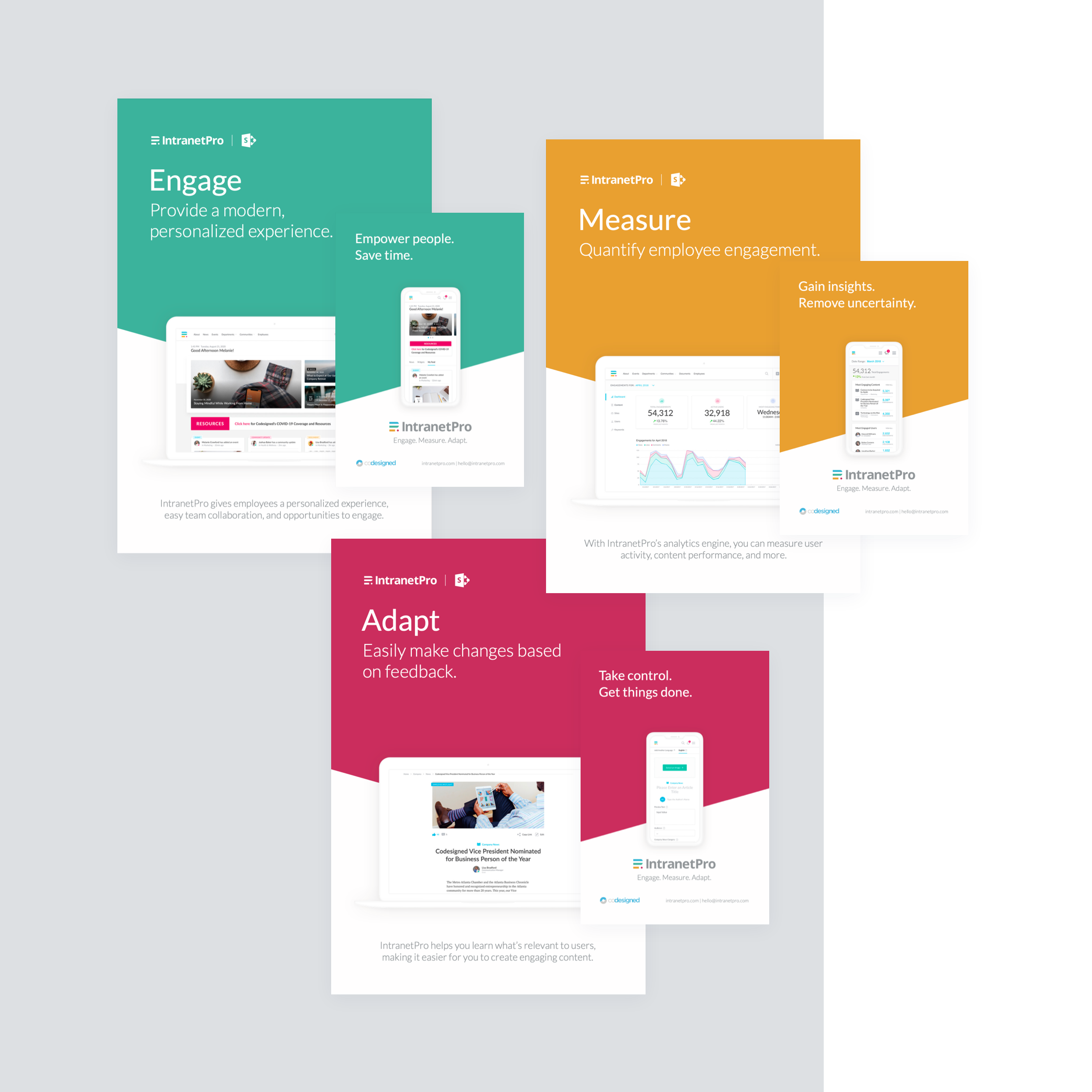 Marketing Materials
Brand materials are a priority for all businesses. Supporting the sales and marketing team consisted of creating flyers, pamphlets, and booth signs for conferences. In addition, it included visuals for social posts, blog content, quick start guides for our product, sales decks, visuals for promoting our webinars, custom InVision projects for the sales team before a demo, and case studies for the website.
Lessons Learned
This last year at the company was a learning curve but brought me the most growth as a product designer. Once I became the lead designer, I took on more responsibility managing design sprints and leading meetings. I learned Figma during our transition from Sketch and began contributing to the design system while understanding the purpose it serves. I was involved with the design team, completed design reviews/QA (all testing on product features being launched across all browsers and screen sizes, creating tickets in Jira for devs), and supported the sales and marketing team. Time management was critical.
Working on this platform has taught me about the benefit of research, working through user flows, understanding the user and getting feedback, how to manage a large-scale product and the importance of establishing a design system early on. We did not do this in the beginning and that was a big lesson learned.